This case study originates from our Japanese Distributor, Gigasolar, responsible for distributing and servicing MDB products in Japan. In this investigation, we review how Sumitomo Forestry Group has used Green Climber machines for forestry ground preparation to replant tree saplings.
Sumitomo Forestry approached Gigasolar with an interesting challenge. What is the best way to manage ground preparation and maintenance of land for growing new tree saplings? There were several conditions that Sumitomo Forestry was dealing with such as, operator safety, steep slopes, thick overgrowth, and hidden stumps.
The previous method was to plant trees around the stumps of old trees, where there was available space. The challenge with this method is the eventual space constraints, non-uniformity of rows of trees, and uneven corridors between trees to allow machine passage for clearing overgrowth.
The ideal solution would be to completely clear and clean the tract of land, then plant trees in straight rows with even spacing. This would allow a corridor for clearing of undergrowth between rows, so that the tree saplings are not smothered by weeds. See Image 1: Ideal vs. Real Planting Scenarios for a visual representation of the conditions the Sumitomo Forestry was dealing with.
The customer concluded that the use of chainsaws and hand mowers were resource intensive, lacked effectiveness, and were not time efficient. To achieve their goals, Sumitomo Forestry was seeking a machine that was strong enough to clear fibrous materials and at the same time powerful enough to grind stumps. After some initial trial runs, the remote-controlled Green Climber LV 800 machine was chosen as most suitable to perform the work.
Image 1: Ideal vs. Real Re-Planting Scenarios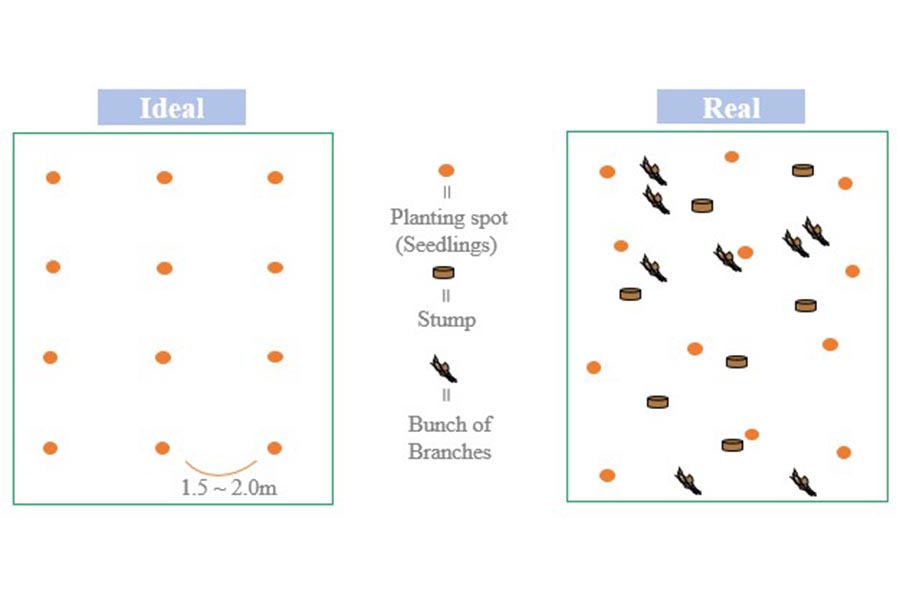 Operator Safety
Forestry work can be hazardous work if proper safety precautions are not taken. Operators can be subjected to heatstroke, risk of bees and snakes, working on steep grades, and machine vibration. Many of these risks are mitigated by remote-controlled Green Climber machines, which brings the operator off the machine and permits operation from a safe distance. This was an important factor for the Sumitomo Forestry to create a safer environment for their workers.
Efficiency and Cost Effectiveness
One of the challenges for the whole forestry industry in Japan is attracting enough human capital to meet the demands of the forestry market. The aging workforce, combined with competition for job candidates with other industries, presents unique resourcing constraints. To meet this challenge, the solution was to look towards technology that can help fill the labour gap and make operations more efficient and effective.
By using the Green Climber LV 800 with the TF 150 Forestry Head, the customer was able to gain efficiencies based on the speed of grinding the stumps. See Table 1 for field measurements.
Table 1: Stump Removal Data for 7 measured stumps
| | | | | | |
| --- | --- | --- | --- | --- | --- |
| Tree Type | D1 (cm) | D2 (cm) | H (cm) | Volume (m3) | Time (s) |
| Larch | 61 | 56 | 35 | 0.094 | 156 |
| Larch | 32 | 35 | 30 | 0.026 | 77 |
| Larch | 58 | 52 | 57 | 0.135 | 94 |
| Japanese oak | 26 | 28 | 37 | 0.021 | 103 |
| Larch | 35 | 34 | 33 | 0.031 | 110 |
| Larch | 35 | 32 | 36 | 0.032 | 99 |
| Larch | 27 | 35 | 25 | 0.019 | 84 |
| Average | 39 | 39 | 36 | 0.051 | 103 |
The results of these trial runs were extremely positive. In the time it took an operator equipped with an LV 800 and TF 150 forestry head to clear 0.25ha of all fibrous materials and more than 20 stumps, an operator equipped with a hand mower was able to clear only 0.125ha and still had the stumps to grind.
Furthermore, by planting tree saplings in a straight row with even spacing, the same Green Climber machines can be used to perform maintenance between the tree rows during the years of growth.
In conclusion, the Sumitomo Forestry, under the guidance of Gigasolar, has re-vamped their philosophy and strategy to clear tracts of land to prepare them for tree saplings in a manner that increased employee satisfaction, while making the job much more efficient and effective.
The Sumitomo Forestry Group was founded by founder Masatomo Sumitomo established in 1691 with the philosophy of placing prime importance on integrity and sound management. The early work was to fortify the Besshi Cooper Mines with timber from the nearby forest and later they devised a plan for reforestation to replenish the surrounding land. Today, Sumitomo is the third largest forest in Japan, owning 48,000 hectares.