The owner of the small company "Gala-Forst Löher" based in Hochsauerland, Elmar Löher, specializes in services and operations with remote-controlled machines. The company supports projects for green space, tree and biotope maintenance and reforestation with its remote-controlled machines. Löher has been relying on Green Climber machines from MDB for this since 2016.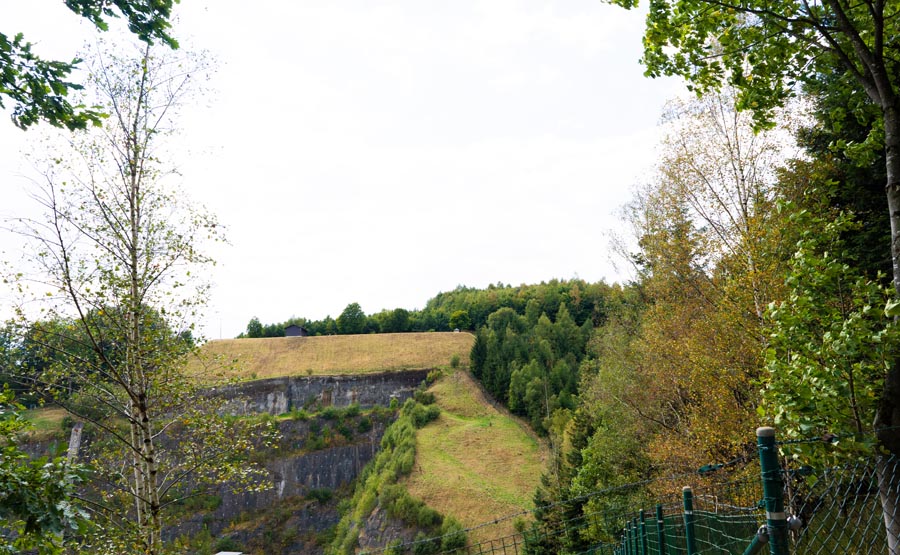 If you ask the athletic man from Sauerland how he came to this job, he answers: "As a trained forester and forestry master, I initially turned my back on this profession." He decided to do a second apprenticeship as an IT businessman and then actually wanted to open his own fitness studio. At that time, he discovered his great passion for climbing and became a specialist in tree care and restoration. He combined his old profession with his new hobby and founded an arboriculture business in 2007. In the following years, the entrepreneur realized that he had to specialize further to differentiate himself from the competition. That's how he got to know the company VOGT in Schmallenberg-Felbecke. VOGT sells professional technology for landscape maintenance and carries the MDB Green Climber remote-controlled product range. Today, Löher can certainly be called "The King of Steep Slopes". No steep meadow or forest area is unconquerable for him and his fleet of machines, no matter how difficult and steep the terrain.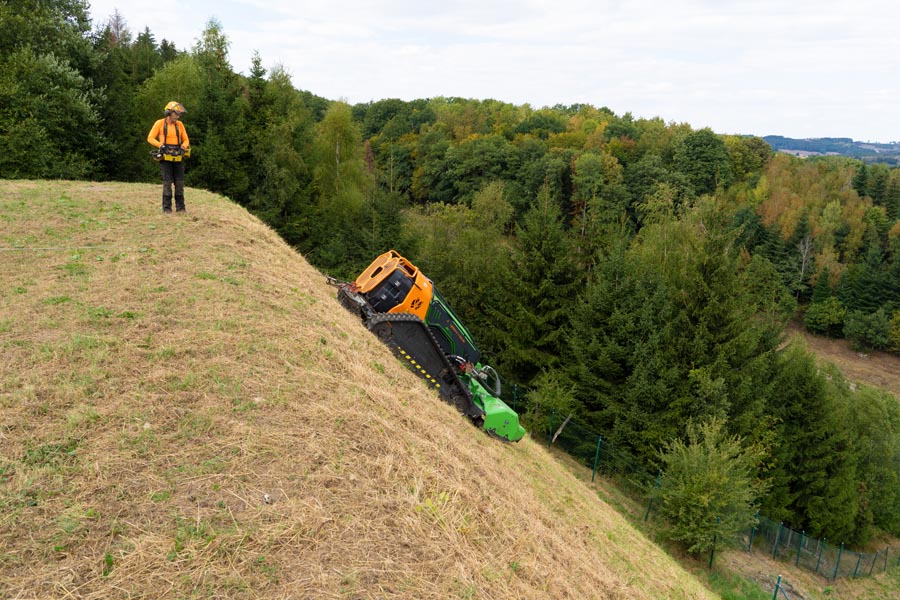 Elmar Löher's fleet currently includes the MDB Green Climber models LV 500 PRO and the LV 800, which also offers enough power for demanding forestry work. In addition to the standard grass and weed mulcher head, Löher also owns a forestry mulcher and a stump grinder, which can also be used to safely remove tree stumps on steep slopes. The MDB Green Climber LV 800 also becomes a safe means of transport for material recovery on slopes when equipped with a mounted shovel.
MDB machines can be used on slopes of up to 70 degrees due to their special design with low center of gravity, width-adjustable undercarriage, and patented engine oil lubrication, which are also fully required for Löher's forestry operations. The large contact areas of the machine tracks minimize the ground pressure to an acceptable level of 170 g/cm². "Working gently on the ground is becoming increasingly important in our highly compacted cultivated areas," says the trained forester. Therefore, soil-conserving machines should always be used when mulching on steep slopes, as otherwise less and less surface water will be absorbed by today's highly compacted soils.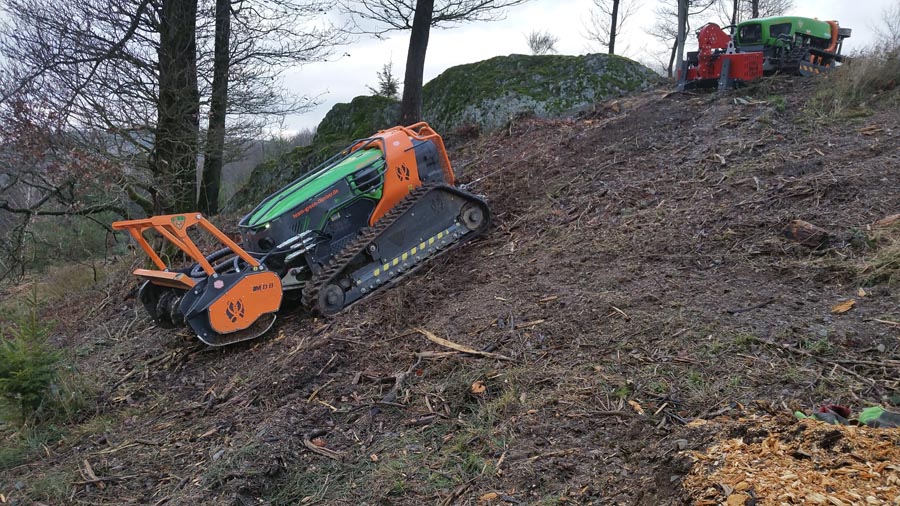 We met with Elmar Löher at a typical job site to accompany the specialist with his remote-controlled Green Climber machines in extreme use. The operational area is about 30 hectares in size and belongs to a medium-sized company from the Sauerland region. Due to the expansion of the company, additional production facilities were gradually built, for which a large amount of material had to be blasted out of the mountain. Thus, steep slopes with a gradient of up to 70 degrees were created on the entire site, all of which must be maintained and regularly worked on with a flail mower and a forestry cutter.
In addition, it must be considered that the area only has a thin layer of soil, and the working equipment must accordingly work as safely as possible and at the same time be gentle on the soil. Gala-Forst Löher was the only service provider that was able to submit an economically viable offer for the maintenance of these slopes that simultaneously considered all the aforementioned factors.
At that time, Elmar Löher, designed a system for working the land in a way that was both gentle on the ground and effective. The Green Climber LV 800 forestry machine working on the slope is connected by a steel cable winch that is anchored to the LV 500 PRO at the top of the slope, on which a special traction winch is mounted. In this way, the machine is additionally secured on the slope, the risk of slipping is reduced to a minimum and therefore can work the steep slopes effortlessly and safely.
Both machines can be controlled simultaneously by a single operator via remote control. Elmar Löher explains that this solution is up to twenty times more effective than conventional manual work with a brush cutter. This means that even the most difficult areas can be worked efficiently, safely, and in a way that is gentle on the soil. In conclusion, what seems to be an impossible task, became possible with Elmar Löher´s invention, the consultation of the VOGT team and MDB Green Climber machines.